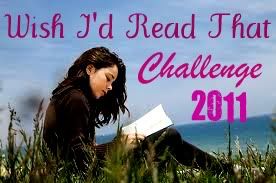 January 1-December 31, 2011
I am once again participating in this challenge although I did not finish it last year. This year the challenge is being hosted by
My Love Affair With Books
.
There are four levels to the challenge:
Last year I aimed a little too high and listed 20 books, some of which I actually didn't want to read. This year I will aim for the Addicted level and see how I do.
Here are the books I am thinking of reading. This list is subject to change and I have over 150 books on my TBR list to choose from!
The Girl With the Dragon Tattoo by Stieg Larsson
The Girl Who Played With Fire by Stieg Larsson
The Girl Who Kicked the Hornet's Nest by Stieg Larsson
Nefertiti by Michelle Moran
The Heretic Queen by Michelle Moran
The Help by Kathryn Stockett
Anna and the French Kiss by Stephanie Perkins
The Time Traveler's Wife by Audrey Niffenegger
Poison Study by Maria V. Snyder
If I Stay by Gayle Forman
Never Let Me Go by Kazuo Ishiguro
The Girl Who Chased the Moon by Sarah Addison Allen