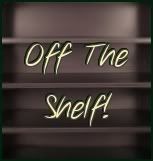 Bookish Ardour is hosting the Off The Shelf! Reading Challenge from January 1-December 31, 2011. The purpose of the Off The Shelf! Reading Challenge is to read books you already own but haven't read yet. Usually I don't have unread books sitting on my shelf with a few rare exceptions like books I've received as gifts that weren't my cup of tea or books I couldn't get into at the time. This past year however I have purchased books that I still haven't read as well as receiving some for review so when I found out about this challenge I knew I'd better sign up to participate!
There are 5 regular challenge levels:
Making a dint (read 30 books)
On a roll (read 50 books)
Flying off (read 75 books)
I don't have that many books to read so I am just going to go for the Tempted level and if I find I have 15 books to read I may up it to the Trying level.
Here are the books I plan to read:
1. Halo by Alexandra Adornetto
2. Another Pan by Daniel and Dina Nayeri
3. My Name is Mary Sutter by Robin Oliveira
4. Life, In Spite of Me by Kristen Jane Anderson
If this sounds like a fun or necessary reading challenge to you, you can find out more and sign up at Bookish Ardor.